North and South by Elizabeth Gaskell

My rating: 4 of 5 stars
Who doesn't love to watch Richard Armitage raise his eyebrow and give you THAT LOOK!?!




I have to admit that the BBC TV series was far superior to the novel that it was based on. After watching this series, I was eager to read the book, but the story dragged on – and was even a tad melodramatic in some parts. Gaskell wrote this and several other novels in serial format. I suspect my problem with serialized Victorian novels is the same problem I gripe about today's serialized novels: TOO MUCH FILLER!

Elizabeth Gaskell was a very busy woman and Charles Dickens (one of her publishers for this serialized novel) often had to hound her for each installment. You could tell from the book version that many portions were hastily written and lacked focus. Not her best effort, by a long shot.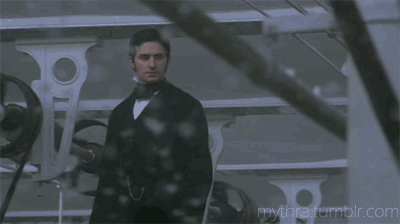 I really encourage you to watch this incredible series. Check out the scene where John Thornton walks through the cotton mill, with all the particles of cotton fluff flying through the air, the workers dragging the enormous industrial weaving looms, while young children scampered underneath, picking up tufts of floating cotton. The scene is as mesmerizing as it is appalling.
I rate the BBC TV series a solid 10 out of 5. I bought the DVD for my own private collection – it was that good! (The soundtrack is DIVINE! You can check it out, as well as the trailer for this TV series on Youtube.)
I gave the book a 3.5, rounded up to 4, out of 5 stars because this book did much in its time to expose the appalling conditions of Great Britain's mill workers, and chronicled the sacrifices that those workers had to make in order to unionize and force the mill owners to provide better wages and safer working conditions.